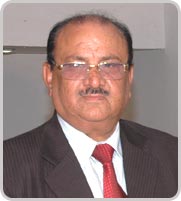 Mr. B.S. Nohar
Bachelors of Science, Master of Arts
(Economics with Mathematical Stats.)
LPRI, London
Mr. B.S. Nohar is the Managing Director, founder, Lead Rubber Technologist and strategist behind Varun Polymers. Most of the cutting edge products and unique business concepts & services developed by Varun Polymers are his brainchild. Under his visionary leadership, Varun Polymers has experienced tremendous growth since its establishment in 1988. Over the past decade, Varun Polymers has become one of the premier Rubber Recycling Company and has become most recognized and well established brand name. With 25 years of experience, Mr. B.S. Nohar has been evolved into every dimension of Rubber Chemical Industries. He has experienced change in technologies and methods over this invaluable tenure. He has installed more than 150 plants of Rubber Reclamation of Automobile Tires and over 50 units of other Rubber Moulded goods and also focusing on Rubber chemical unit of Rubber Reclaiming Agent & Rubber Swelling Agent and Hydrochloric Acid etc, in Karnal (Haryana) successfully. He has experience of Tire, Tube, Rubber Reclaiming, and manufacturing process of each and every type of Rubber moulded goods, V belts etc. The details have been given below:
Tire, Tube & Rubber Reclamation plant, V belt Plant and Fabrication Installation, Complete understanding of Mechanical & Technical process and expertise of process and quality control.
Specialist in compound designing, processing of Rubber Compound Mixing etc.
Expertise in Compound costing and all quality control, tire construction and designing with latest tire technology including V belt construction & designing etc.
Specialist in new modern technique of Rubber Reclamation Plants for providing low-priced & finest product of Rubber in India, which is very much successful technique in our country.